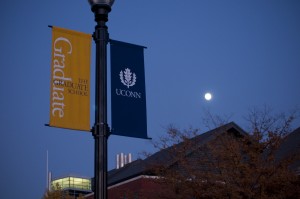 Considering a Master's Degree at UConn?
Before making a decision you should:
contact the graduate director of the master's program you wish to pursue to learn more about the expectations and requirements of the program
discuss with your University Scholar Advisory Committee and the graduate director of the master's program whether pursuing the master's degree is a logical step toward your academic goals
consider the feasibility of completing the master's degree in the context of your overall commitments
If you wish to pursue a master's degree you will need to apply to and be accepted by the graduate program of your choice. The Graduate School website includes information on applying.
The Benefits
University Scholars who choose to pursue a master's degree at UConn enjoy two important benefits:
waiver of the UConn Graduate School application fee (please e-mail gradadmissions@uconn.edu to request an application fee waiver; please state that you are a University Scholar)
the possibility of applying graduate-level courses not used to fulfill requirements for the bachelor's degree towards the master's degree.
Graduate School policy allows all graduate coursework taken by a University Scholar while an undergraduate to count toward a future master's degree, if:
The student's grades are B (not B-) or higher
The courses are approved as part of a graduate plan of study
The courses are not used to fulfill baccalaureate requirements
Practicalities
If you are interested in combining undergraduate and graduate work, you should be in close contact with
the faculty and graduate director of the program you wish to pursue for department-specific application expectations and deadlines as well as the degree requirements of the master's program
Staff at the Graduate School:
Staff at the Registrar's office responsible for Degree Audit for the Graduate School

Sandra Cyr: (860) 486-8495 for administrative matters such as transfer of credits from your undergraduate to your graduate record
If you satisfy the requirements for the bachelor's and the master's degree at the same time, then both degrees will be awarded on the same day. If you have additional coursework to complete for the master's after the bachelor's has been awarded, you will become a graduate student for the next term.